Clean Beauty & Confidence Coach
More than a makeup artist, I'm here to be your guide and your cheerleader as you rediscover, embrace and honour your own natural beauty.

It's a privilege to support people at all stages of their life to feel seen, to feel beautiful and to feel confident. I love the power that makeup has to enhance the beauty that already exists within us so that it reflects an expression of our true self.

My own journey in the beauty industry began with graduation from beauty school (Centre Européen de l'Esthétique) with high honours in 2015, followed by a hair and makeup tertiary qualification from Acte Académie in 2017. Since then, I've developed and refined my skills across movie sets, TV shows, photoshoots and in stores and spas, meeting a diversity of faces along the way that remind me that there is not one singular definition of beauty.

Today, I am motivated to help others see and celebrate the best version of themselves through the use of ethical, clean and sustainable products that don't harm our bodies, or our planet. Like you, I'm conscious of the choices I make for myself, my family and the world around me. My journey into motherhood has amplified my desire to leave a lighter footprint and be accountable to the generation who will inherit the outcomes of today's decisions.

My hope is that through education, inspiration and conversations around clean beauty, we can collectively create momentum for impactful change within the industry.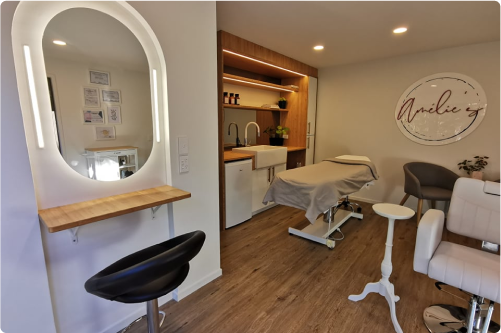 The Cocoon
This is a space to be present, an opportunity to retreat from the outside world and focus on your own inner sanctuary, connecting with self and indulging in stillness.
In the heart of Hurdon, New Plymouth, this purpose-built space is where the focus is on you. Where you can be open, vulnerable and feel safe as you explore your own sense of beauty. Where you'll feel cocooned in a sense of wellness, luxury and beauty!

Considered in its design, and imbibed with the energy of positive affirmations in its foundations, your physical journey here is experienced in the shape of an infinity sign, a reflection of the infinite amount of strength, love and resilience in each of us. A lot of care and energy has gone into creating a space that is not only functional in design, but that truly feels welcoming and nurturing, whatever your reason for being here.
I can't wait to welcome you! "Amélie is not just a makeup player, she's an expert! Her deep knowledge and understanding of skin and beauty are still bringing such a value in my daily life, years after our appointment."
Clémence
It takes a village
Creating this business has taken a long time and a lot of dedication. It's taken over 3 years to get to what you see and experience today. Determination alone isn't enough. I was lucky enough to be able to bring in amazing individuals, mostly women, to help me along the way. It's only fair to showcase them here! I chose to work with them because our values align on many levels and I love supporting women in business.

Out of this world business coach:
Marijke
The Marketing Collective

Thoughtful social networks managers:
Rose, Hailey and Kyra
The Creatives

Outstanding UX/UI designer:
Clémence
BxDesign.io

Loving husband/developer:
Alex

Kind-hearted accountants:
Shannon, Shelley and Kat
My Mobile Accountant

Inspired copywriter:
Monica
Mark My Words

Nurturing pricing coach:
Natalie
Natalie Coombe

Passionate interior designers:
Belinda and Sarah
Belhams Interiors

Amazing family and friends "Amelie creates a really relaxing atmosphere within her home, a blissful escape from reality."
Le Anna

Join the Clean Beauty revolution
Get tips, education and advice to support you on your own clean beauty journey to healthy, beautiful skin.