Clean, natural and right for you
I believe makeup is an empowering ally in showcasing beautiful skin, elevating favourite features and amplifying inner radiance - and I'm here to show you how.

I enable people with everyday makeup looks using clean products that enhance their innate beauty. Because makeup mastery is not about having expensive products and tools. It's about confidently expressing your own sense-of-self through techniques that honour your skin in a way that feels right for you.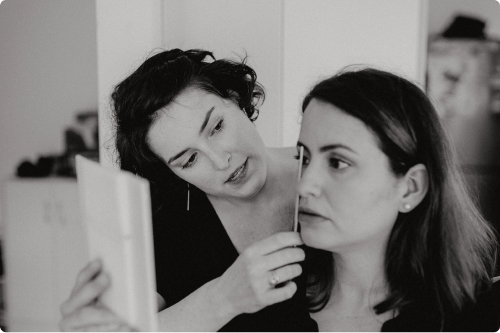 Celebrate the skin you're in
My approach supports you in unapologetically embracing your age, stage and lifestyle, so you can confidently apply makeup in a way that works in harmony with who you are, and consciously choose products that align with what matters to you.

You'll discover foundational techniques that become an ingrained part of an easy yet empowering ritual of self-care, so that the mirror reflects back the real you you've been missing.
Star service
"A skin and makeup session with Amélie is beyond comparison with anything I ever tried before.
When I want to feel beautiful and confident, I know how to without looking like a different person!
Makeup is not a mask anymore, it became a powerful ally."
Clémence
All Skincare, Makeup and Massage services
Services for skin, and soul
My purpose-built Cocoon offers a space where you can relax, be nurtured, explore your own definition of beauty and discover more about a clean, conscious approach to feeling confident in your skin.

Skincare & Makeup
Reclaim your confidence
From $130
Embrace clean products and simple practices that enhance your natural beauty. Let me guide your discovery with personalised, hands-on lessons, or get a done-for-you look for special occasions and milestone moments
Meet Amélie Clean Beauty & confidence coach
I am a qualified makeup artist, skin therapist, cosmetician and massage therapist who empowers individuals to accept and enhance their own natural beauty using safe, sustainable products. I believe makeup is a tool to enhance what already exists - you are the beautiful one! I love seeing people of all ages and stages reclaim their confidence and embrace their innate beauty. "Amélie is so dedicated and passionnate, and very much aligned with her values. I wanted a new routine that could fit into my new life while respecting the environment. With her, I got just that!"
Jeanne
Education and Clean Beauty
An enlightened beauty journey
I'm inspired to do my part in creating a safer and more sustainable future - for ourselves, for the industry and for the planet. The essence of my role as a makeup artist is to not only enhance natural beauty with hands-on skills, but to educate and enlighten others when it comes to using clean, conscious and plant-powered products.