No-go ingredients
The 101 of what to avoid Don't compromise in the pursuit of beauty
I know that labels can seem overwhelming, with plenty of unpronounceable words and complex formulas. So, to support you in your journey to choosing cleaner products, I've compiled a list of non-negotiable no-go ingredients I look out for when I'm choosing and recommending skincare and makeup to my clients.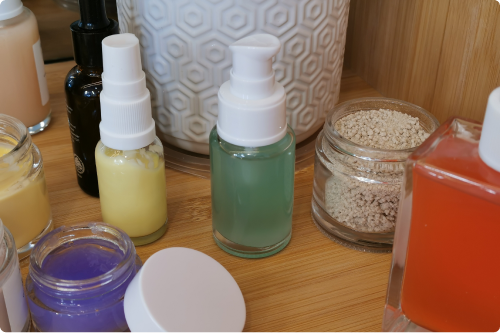 Knowledge is power
My aim is not to alarm you, but to inspire you to transition to options that are both kinder on your skin and the planet. Through education like this, our collective purchasing influence can have its impact and send a message to corporations that what we really seek is clean, safe and sustainable skincare.
The no-go ingredient list
Formaldehyde
Type of ingredient
Preservative - denaturant
What does it do?
It is antimicrobial. Its primary function is to kill microbes
Why won't I work with it?
This ingredient is banned from use in cosmetics and toileteries in Japan and Sweden.
Avoid if/when
Taking Hormonal replacement therapy (HRT), pregnant, breastfeeding, immunocompromised, have sensitized skin.
What impact can it have?
Allergy triggering, carcinogenic, hormonal disruptive and skin irritation.
What to look for on the labels?
DMDM Hydantoin (releaser of formaldehyde), names with ''dimethyl '' and ''hydroxymethyl'' and/or ''dione'' in them.
Hydriquinone
Phenol
Phenoxyethanol
Toluene
Also on the list, details coming soon
Ammonium Laureth Sulfate
Fragrance
Parabens
Perfluoroperhydrophenanthrene
Petrolatum
Sodium Polynaphthaalenesulfonate
Trichloroethane
Triclosan
Xylene
Zinc Pyrithione
Disclaimer
Scientific research and knowledge of ingredients mentioned on this site are always evolving.
While I do my best to keep the information available on this website accurate by updating the content regularly, it is important to note that all the information available on this site and all media tied to Amélie's Corner Ltd (including but not limited to all the company's social media accounts) is designed for general educational and informational purposes only.
They may not reflect the current developments, research, laws or regulations.
The content of this website and all media tied to it are not intended as, nor should ever be considered a substitute for professional medical advice. Always reach out to and consult a qualified healthcare provider for ALL matters related to health (yours, your familys', Friends',...) this includes cosmetics' product compatibility with medication and or allergies.
If you feel there is an error in the information provided, feel free to
contact me
.

Join the Clean Beauty revolution
Get tips, education and advice to support you on your own clean beauty journey to healthy, beautiful skin.